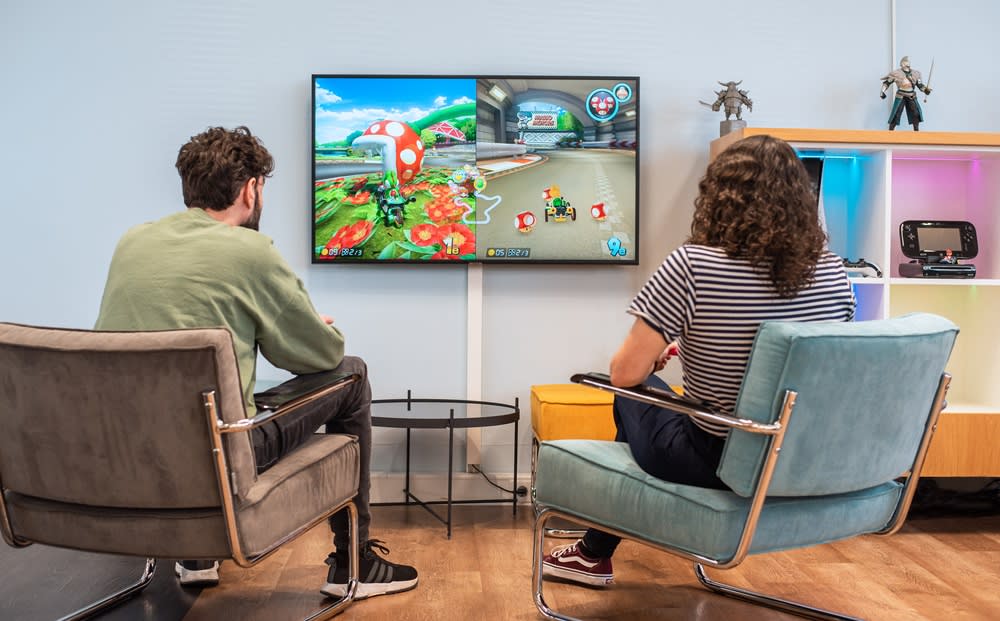 Webshop Manager (32-40 hours)
Eindhoven

,

Noord-Brabant

,

Netherlands

€2,200 - €2,500 per month

Marketing
Job description
Do you have a keen eye for detail? Are you ready for the world of E commerce and would you like to become the web shop specialist of Startselect and work with a team of designers and copywriters?
Then we have the perfect job for you in our content team!

Your position
As our Webshop manager you are responsible for Europe's largest webshop for games and entertainment! You realize and manage all pages of Startselect.com.
You are responsible for the uniformity, completeness and correctness of all content on the pages, both visually and textually. In this role, you are involved in the implementation of promotions, campaigns and platform optimization, in cooperation with the Marketing team.
In summary, you will be busy with the following:
Drafting/creating and updating Startselect's pages, both product and promotional pages
 You will update the product images on our pages
You identify and analyze deviations proactively and act on them immediately
You are involved in the process of product launches, improvement of content and promotional activities
Together with the team you strive to achieve the goal of uniformity and completeness on all pages
You identify bottlenecks in your own processes and make improvement proposals to improve our services and solve the bottlenecks
You advise the organization in the context of your specialty
Your team

You will be part of the content team within our marketing department. You will work together with your colleagues Copywriter and Designers. Together you will make an impact worldwide and realize the success of Startselect!
About Startselect
We help consumers worldwide make the most of their free time by selling digital gift cards for gaming, streaming, shopping and more. From our office in Eindhoven we are active in 30 countries in Europe, Oceania, North America and the Middle East. We work directly with renowned brands such as Google, Apple, PlayStation, Xbox, Nintendo, Spotify and Netflix. Our customers simply and securely buy a code with their favorite payment method, after which they receive it directly on their screen and by e-mail. No more going to the store or waiting for the postman: Start, Select, Play!
Job requirements
What do you bring into the game?

A degree in communications or marketing
Experience in E-commerce is a plus, preferably in a content-related role
Perfectly in writing Dutch and English
You leave the technology to the specialists, affinity is desired
You like to work quickly and accurately
What do we bring into the game?
A full-time job (32 to 40 hours) at Europe's largest webshop for games and digital entertainment
50 top colleagues who are always in for a game in our game room or at the football table
€ 2.200 - 2.500 gross per month, depending on your knowledge and relevant work experience
8% vacation pay in May and a 13th month in December
25 vacation days on a full-time basis and the option to purchase additional vacation days
Good pension scheme where Startselect pays 50% of your premium
Possibility of hybrid working with home office allowance, flexible working hours and home office set-up
Free lunch
Reimbursement of travel expenses
Employee discount on our products
Opportunity for personal and professional development, it's up to you to make the most of it!
Memorable company outings and free entry to Gamescom: the largest game fair in the world
Challenge accepted?

Click on the 'apply' button to introduce yourself to us! We look forward to receiving your motivation letter, resume and portfolio.
Why should I apply?
Good question! Many colleagues once chose to apply with us because of the industry we're in. The gaming and entertainment industry and therefore our products and services appeal to many people. Another deciding factor is the challenge that awaits them. Your bed is not already made, there is a lot that can still be built up or improved. This triggers people who love pioneering and who can create something beautiful from their specialism. Often, the vacancy, our ambitions and the growth potential of our company fit in well with the wishes and ambitions someone has for his/her next career step.
What makes Startselect unique?
We are more down-to-earth than a trendy start-up, but more relaxed than a tight corporate. With about 50 employees, we are still a relatively small company that is always developing, while the turnover and scope of our business is large.
What's the best thing about working at Startselect?
Helping to build and make an impact. The feeling that you can really contribute to the growth and success of the company. Achieving or creating something that wasn't even there yesterday, keep developing and in the meantime working towards an ambitious company goal together.
What our employees value most is the freedom and flexibility they are given. You get the freedom to develop and implement your own ideas and projects. You decide how you do your work and how you organise it, as long as the end result is good and goals are achieved. And, of course, the great colleagues, pleasant and informal working atmosphere and the team spirit within our teams!
When might working at Startselect not really suit me?
Working at Startselect is not for everyone and that is okay. There are many reasons to start with us, but just as many reasons not to.
You will probably not be happy with us if you have a strong need for structure, rules and stability. If you like to do things 'because that is how we've always done them'. If you don't feel comfortable with the fact that the future of the company is also in your hands. If you work best within a strong hierarchy or like to come to work dressed in a suit. If you prefer to start the first year quietly, with not too much responsibility or big projects. If you find it difficult to show initiative and make things open for discussion. If you actually like the fact that your project and improvement plan first has to pass through three management layers before you can get to work. And if you don't like it that your contribution and work are noticed.